In this post, we wanted to cover some basics regarding the question that has been put in front of us a thousands times already, and that is the process of registration and login on Live Jasmin site.
As much as Live Jasmin registration and Login is easy and simple, we wanted to cover some basics and point out some privacy related things, that you might neglect when you register on Live Jasmin.
Live Jasmin Registration
To register on Live Jasmin, you need to click Join Now link on their site. After clicking a Join Now link, you will see a page like this one:
On this page, you need to fill your info, namely Username, Password and Email to login.
Of course, if you want to take care about your privacy, you should always open a separate mail for all your NSFW actions and keep it safe and private. It takes less than a minute to open a new E-Mail on Google that you can use for all your shady and explicit stuff, and simply do not mix it with your official E-Mail. I get surprised each time I see E-mail like andrew.lewis@… .gov or something similar used on a sex cam site or Torrent site. Come on, think a bit about your privacy!
Also, your username shouldn't be your name. Good idea is to think about a pseudonym and use it on sites for adults.
Live Jasmin Registration – step 2
After you fill three fields above, you will be taken to the next page on Live Jasmin login: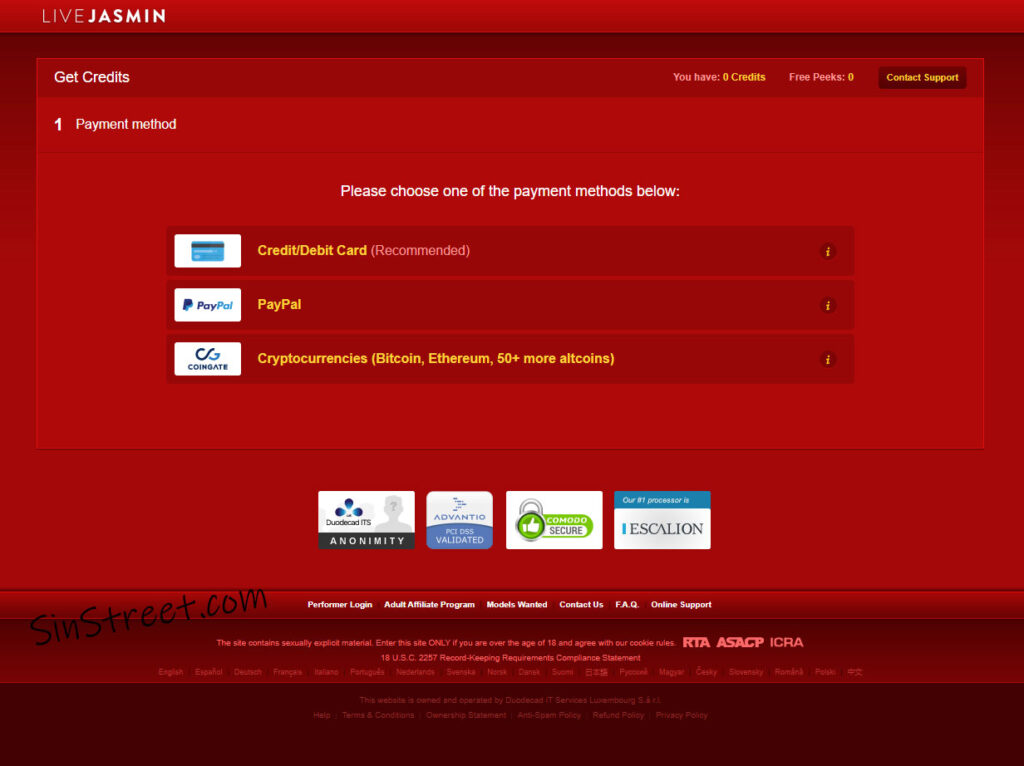 As you can see, in order to proceed to LiveJasmin, you will need to Get Credits via one of their payment methods. And we have reached a topic that has been intriguing many of our visitors who asked us about this thousands of times. In order to debunk the myth and to check it out by ourselves, we tested each of the first two payment methods. The only method we didn't test is Cryptocurrencies, but these are keeping your privacy by default, so we focused on testing Credit Cards and Paypal.
How to buy credits with PayPal on LiveJasmin
Click on the Get Credits box at the top right of the page
Click on PayPal
Choose your package
Log in to PayPal and complete your transaction
We tested this way of payment and it worked flawlessly. Although we have heard that some users of LiveJasmin site had their paypal charges and statements with the LiveJasmin name, we had a statemement with dditservices. Just that you know, dditservices is the owner and operator of various websites like LiveJasmin.com. dditservices.com also provides the Billing Support for its websites.
I am not sure if paypal statements are of any importance to you, but just in case, it is much better knowing that you purchased services from dditservices than LiveJasmin. We applaud them for this kind of care for their customers privacy.
How to buy credits with Credit Card on LiveJasmin
Click on the Get Credits box at the top right of the page
Click on Credit/Debit Card
Choose your package
Put in your Credit/Debit Card info and complete your transaction
Credit card is a recommended payment method on LiveJasmin and we tested it too. As stated on their site, when you purchase credits on LiveJasmin, all your transactions will appear discretely under one of the following company names (depending on the payment provider you use):
dditservices.com
Epoch.com
CCbill.com
Webbilling
WTS 800-717-7476
This way no one at your bank will be able to track which services you paid. Each of the names above are credit card processors that are processing hundreds of thousands of transactions for wide variety of services and goods, and beside the order number that will be sent to your mail only, no one at the bank side will ever be able to connect your order to LiveJasmin, as order ID is not passed to the bank and does not appear on the statement.
This is highly convenient. Whether you want to spend some quality time with LiveJasmin girls, or want to test your sexuality with Gay men or shemales, you can rest assure that no one will ever know you spent time on LiveJasmin or that you purchased some services there.
As you probably know, privacy is one of the main focuses of these sites. Sites that provide their users top privacy are the ones that can flourish and grow. And in terms of privacy and protection of your private data, Live Jasmin is absolutely on top. With some additional measures like getting a separate Gmail address for adult related services (and possibly VPN), you can safely spend quality time on LiveJasmin.